The Art of Receiving Guests
Setting the table
We Italians lay the table in a very creative way. We are used to choose a beautiful table cloth, suitable for the occasion and combine crockery, glasses and cuthery very well. Here, you'll be able to find a lot of ideas for all the celebrations in the year and your special events.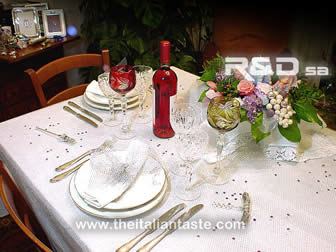 Table setting ideas, Italian style
In these pages you'll be able to find some tips to lay your table in all your formal and non-formal occasions.
Some ideas are very simple but colored; other ideas are more refined or chic.
A lot of images full of centerpieces, placecards and other table ornaments to see!
For your special occasions
Setting the table at Christmas
S. Valentine's Day Table
Setting the table at Easter
Setting the table in Spring
Tables for special occasions