San Valentine's Day
Passion is red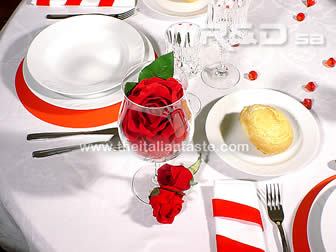 This table is easy to do and beautiful to see but the success is assured.
You have to be careful with details that are very important. Red is used with velvet roses, ribbons for napkins, tablemats made with thin card and crystals scattered on the table-cloth.
If you don't find red crystals, you can use rose petals; in this case you have to substitute velvet roses with fresh ones.
The best thing would be to use white table-cloth and dishes for a beautiful contrast. If you don't have them, try to choose other colors that can combine well together.
Other images
Rate this!
Rating: 5 / vote cast: 1