The Italian Christmas table
Few touches of colour and you have a warm table for Christmas!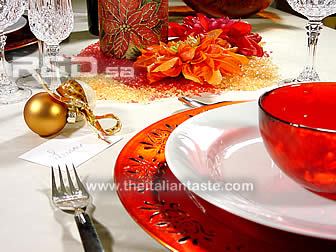 It isn't necessary to have very refined set of cutlery or dinner service or fashionable glasses to lay well your Christmas table.
Look at our proposal for laying the table on Christmas season and then give free rein to your imagination for the best result!
Think about the dominant colours of your dinner service, your old Christmas decorations and play with their colours! The most important thing is to match the centrepiece and place cards with your dinner service as you can see in the following photos.
We set the table for a meal based on fish with the typical fish cutlery.
The tablecloth is pale. The dinner service is white. We used crystal glasses and stainless steel cutlery.
The tablemat is red (a typical Christmas tablemat). We put a dinner plate on it and then a little red bowl suitable for a clam chowder or the shrimp cocktail which you can open your meal with. We run the napkin through a Christmas napkin ring full or red and orange decorations. Red and orange are the colours of the centrepiece too. This is very simple. We scattered orange and red little synthetic stones on the tablecloth. We placed a big Christmas candle in the centre and two silk flowers (sprinkled with golden powder). Look at the photo for more details.
We suggest to use the candle only for decoration; it would be better not to light it. In any case every candle gives off scents that aren't compatible with the food fragrant.
The place card is very simple too! Place a card with the name written by hand near the tablemat and put on it two little Christmas balls tied with a red and orange ribbon.
Your table is ready!
Rate this!
Rating: 5 / vote cast: 1