Spring table with pink flowers
Centerpiece and other decoration ideas
This is a nice way for setting the table in spring: using pink flowers! You have to choose silk flowers that are typical of spring. Their number must be enough for making the centerpiece. After using them, you could join them together and place in a little vase: another beautiful idea for decorating your house!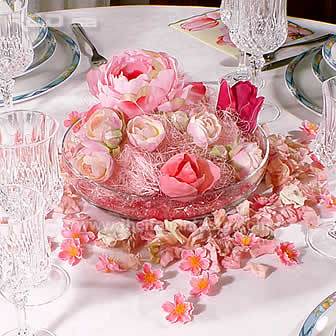 How to arrange pink flowers for a spring table. Very refined and elegant idea!
- As you can see, I always use the same crockery, cutlery and glasses in my pages because they are my original ideas, that is how I set my table in the year. I have the habit of choosing a white table-cloth too! So I don't mix colors too much. Everything is simple but elegant and so I can realize a lot of different decorations according to the different special occasions!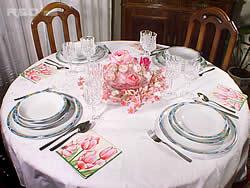 - Let's look at the table! You can click on the photos to see enlarged images and more details.
- The beauty of this table is based on its centerpiece.
It's made with a transparent container in which I put a lot of transparent pink stones.
I covered partially them with pink cocos fibre and arranged some silk spring flowers with different shades over them.
I cut off all stalks from silk flowers.
I chose tulips, anemones and a large peony.
Then I put rose petals and peach flowers all around the container in an irregular way.
- If you want, you can use fresh flowers and hide their stalks among the stones. Add water without any problem!
- I also chose paper napkins with pink tulips: it's cool!
But remember that, if you have to set your table for a formal dinner party, you must use cloth napkins coordinated with your table-cloth and not paper ones.
Rate this!
Rating: 5 / vote cast: 1