Christmas table setting: "natural" style
Setting the table with style according to "Nature"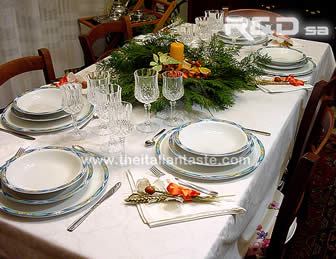 The table we suggest to you is very simple.
On the contrary the current fashion is in the Renaissance style.
We should show all our family china and silver.
But this is a risk if there are children.
And then .. one of the topic of the day is the protection of Nature, isn't it?
What about setting our table according to Nature with style and in a cheap way?

The table-cloth is white. Crockery is in china; every dinner-service can be used.
We used cheap crystal water and wine-glasses. Knives and forks are in stainless steel.
The predominant colors are: white (snow), green (nature), orange (winter fruits and berries) and gold (Christmas)

The table ornament is realized with material of your garden or it can be bought without a big cost.

Placecards are very simple and they can be made by your children.

Other images
| | | |
| --- | --- | --- |
| The whole table | Detail with placecard | Table ornament |
Rate this!
Rating: 5 / vote cast: 1