Blue color on your Christmas dinner table
DIY ideas to have a fascinating and elegant table at the Holiday Season
Do you like blue nuances? looking for unusual table setting ideas? look at my Christmas dinner table! Below step-by-step instructions.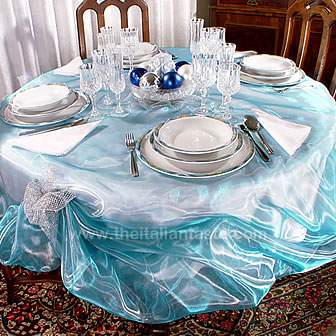 How to use blue, silver an white colors for your Christmas dinner table. Simple to do idea!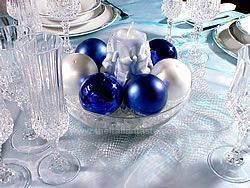 - You should use a white table cloth and cover it with a transparent and light material such as tulle or synthetic organza or what you prefer.
This material must be larger than your table cloth.
In fact, you have to curl it at regural distance and fix it to the table cloth together with silver net ribbons with hidden little pins.
You should fix ribbons between a place setting and another one.
If you have a 180 cm (72in) in diameter round table like mine, your material must be a square with a 300 cm (120in) in length side; in this case you have to curl only the four corners.
The operation is easier if you have a rectangular table ;))
- How to make the centerpiece.
Take a small crystal basin and make a layer of transparent decorative little stones.
Place a soft light-blue candle in the center and alternate blue and white Christmas balls around.
Arrange a long strip of silver net around. Your centerpiece is ready.
- If you want, you can also prepare place cards, simple little thin cards with a rectangular shape in which you have to write your guest's name by hand.
A touch of class would be to write it with a fountain-pen.
Put every place card on the napkin.
Rate this!
Rating: 5 / vote cast: 1