Purple Christmas table
Purple Christmas tablecloth with hand painted snowklakes
The tablecloth for this Christmas table is hand painted with a technique that allows even the beginners to achieve it. The costs are minimal. Paint your tablecloth with the right stencil and use a single color. There is no need of the centerpiece. Do you agree?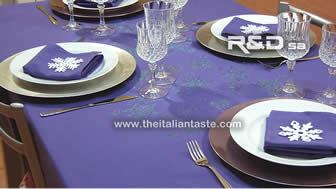 You will need
Handpainted purple tablecloth
Silver-colored underplates
Lilac-colored underplates
Snowflakes to put on the napkins
Your best set of dishes, glasses and cutlery
How to set up a fashionable Christmas table colored in purple
The photos alone should be enough to explain how to set this table. So we give you only some useful tips.
- Prepare the tablecloth ahead.
The color should dry very well and then be fixed with an iron.
You need some days to complete your works.
- You can paint on fabric easily by choosing the suitable stencil. You don't take any specialized knowledge
We chose a stencil by Stamperia (KSB134) and a glitter color for fabrics "Glitter crystal" ( Deco Textil by Lefranc & Bourgeois). Read very well their features so you can look for similar materials.
- The beauty of this table is in the delicacy of its colors that match very well.
So think well about the color to apply on your plain tablecloth.
Everything must also adapt to your dishes, glasses and cutlery.
- For this reason we chose silver and lilac underplates. Our dishes are white!
- Place a snowflake on every napkin.
- Your Christmas table is ready.
- You can lay your table in this way for all the Holiday season
Rate this!
Rating: 5 / vote cast: 2