Fresh pomegranate flowers on the table
An easy DIY idea to decorate your table with fresh flowers from your garden
Want to set your table for your special occasions according to the Italian style? here's an idea of mine with fresh pomegranate flowers, easy and quick to do!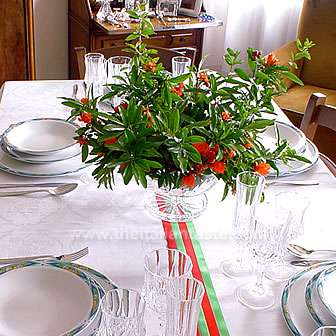 How to make a centerpiece in a crystal bowl with fresh flowers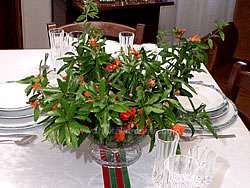 - The table cloth is white, so you can make all the decorations you want.
- Crockery is white with a thin colored border.
In this case, I used crystal glasses for water, wine and sparkling wine.
Knives, spoons and forks are in stainless steel.
This might be an anonymous table if it were not for the centerpiece and the combined ribbons that brighten it up.
- Choose the flowers you like but remember that they must not be too fragrant.
Then buy two kinds of ribbon with the same colors.
- Cut every ribbon in some pieces, everyone with the same length of your table cloth and then arrange them in the center, alternating colors.
Do not leave space among the pieces of ribbons. Ribbons will adhere to the table cloth for the weight of centerpiece and dishes.
- And now the centerpiece! It's very easy and you can make at the last minute.
- I used a large crystal bowl with a little stem.
- I picked pomegranate flowers in my garden. You could make the same thing choosing other flowers too, such as little roses or flowers with a great quantity of leaves.
But you could buy other kinds of flowers with bright colors according to your personal taste.
Fill your bowl with water and arrange flowers: your centerpiece is ready!
- You could also make a flower arrangement on a floral foam but remember to camouflage the foam with colored coconut fibers.
- Click on the photos to see an enlarged image.
Rate this!
Rating: 5 / vote cast: 1