"Natural" table ornaments
Christmas or winter centrepiece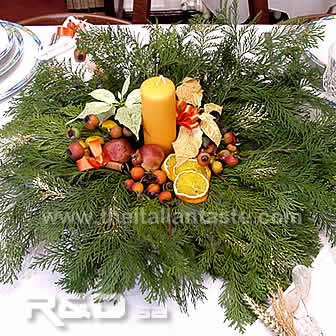 Required materials
A deep little container
A sponge for floral compositions
10 pine-branches, very little
An orange candle
Slices of dried orange
Little dried pomegranates
Little mandarins
Some rose-berries
2 cinnamon sticks
2 little Poinsettias - Euphorbia pulcherrima - (green and orange or red)
Orange satin ribbon
Golden color in flakes
Liquid glue
Scissors
Little pieces of green iron wire.
This centrepiece is realized for a Christmas table but, if you want, you can make it in every moment in winter.
It's enough to eliminate the color in golden flakes. All its materials are natural and they can be taken from your garden or bought without a big cost.
According to your fancy, you can realize a different ornament using other materials if you don't find what we suggest to you.
The sponge must be inserted in the little container. Pour some water over it and let it get wet for about 30 minutes.
Insert into the wet sponge the little pine-branches, candle, rose-berries, little dried pomegranates with little pieces of green iron wire and then little mandarins.
Cut the cinnamon sticks into 2 or 3 pieces and tie all them with some orange satin ribbon. Arrange the slices of dried orange. You can find them but you can make them easily.
It's enough to slice an orange crossways and put all the slices on a radiator for 2 or 3 days. Make a ribbon and put near the candle with a little piece of green iron wire.
Brush some liquid glue on the end of pine-branches, sprinkle with golden color in flakes.
The centrepiece is ready and you can make it the day before.
If you have any problems, . We'll answer as soon as possible.
Rate this!
Rating: 5 / vote cast: 1