Ring centerpiece
How to make a centrepiece: step-by-step description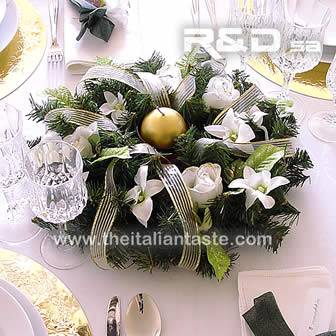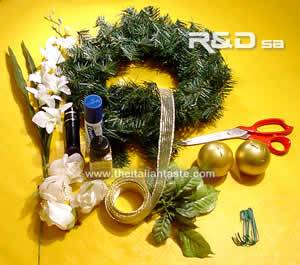 zoom » Look at the photo and follow our instructions for making this beautiful centrepiece.
What's the required materials? A branch of artificial pine, silk white roses and orchids, liquid glue, a golden ribbon, golden flakes, golden candles and green iron wire, very thin.
The white roses are those ones we used for adorning our Christmas tree made with a golden net.
It's a good thing to recycle all the Christmas decorations used in the previous years if we can change their look!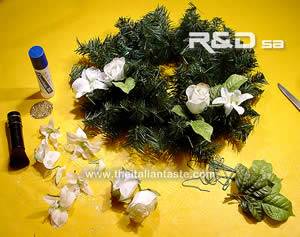 zoom » Model the branch of pine so that it may take a ring form.
Take away the stalk and the leaves to orchids; brush some glue in little pieces of every petal and leave and sprinkle some golden color in flakes. Eliminate the excess of golden flakes.
Begin arranging white flowers and leaves on the pine; use some green iron wire to fix them.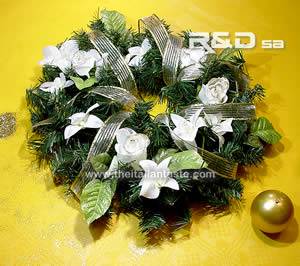 zoom » The final step is to roll up the ribbon around the ring. You have to make this with a great delicacy.
If you want to add a golden candle, you have to arrange it in the center on a little dish.
You can look the centrepiece on the table in this page.
But remember ... this centrepiece is so beautiful you can use it as a Christmas decoration for your home too!
Rate this!
Rating: 5 / vote cast: 1