Authentic Italian Cooking
Italian rice salads
I had learnt how to do a rice salad since I was a child. My mother was a great cook and she was used to do it all year round. I saw her to combine rice with many ingredients: fish, meat, pickled vegetables, bell peppers or mushrooms in oil, peas, beans, salami, cheese ... She prepared the best rice salad on Holiday Season to recycle all leftovers :)) Then in the 80s I tasted my first pasta salad. I have been experiencing since that time what is the best dish. I do not still know. Both taste fantastic! And you? what's your preferred dish?
Mini guide to the rice salad
Rice is the main ingredient. Choose it well and cook al dente stage because every overcooked dish of this kind is very uninviting.
Then add a few ingredients if you make it for your family menu not to increase its calories too much ;)
On the contrary add a lot of ingredients if you prepare it for a special occasion. The more you add, the better it is.
Remember to plan two versions for your parties. An alternative could be a dish of cold rice and a dish of pasta salad. One should be vegetarian because the number of people with this lifestyle is increasing.
Let's begin with calories ...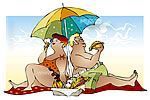 Have you ever thought how many calories are in a rice salad serving? It depends on many things: number and quality of ingredients, doses per serving, dressing ... Read more on the post ;))
Here are my recipes listed according to their ingredients ...